Erste Bank Montenegro just ended the certification process and showed true excellence in attracting and hiring new talents, as well as in developing, inspiring, motivating and rewarding employees!
Erste Bank Montenegro shows true HR excellence
We really praise Erste Bank Montenegro for encouraging employee development. The individual orientation of the development and educational activities is why the average satisfaction of employees in terms of opportunities for development is 90%. This kind of investment in the development of employees is essential in the era of rapid and frequent changes affecting all business sectors, said Lara Šubić Šuša, Project Manager of the Employer Partner certificate.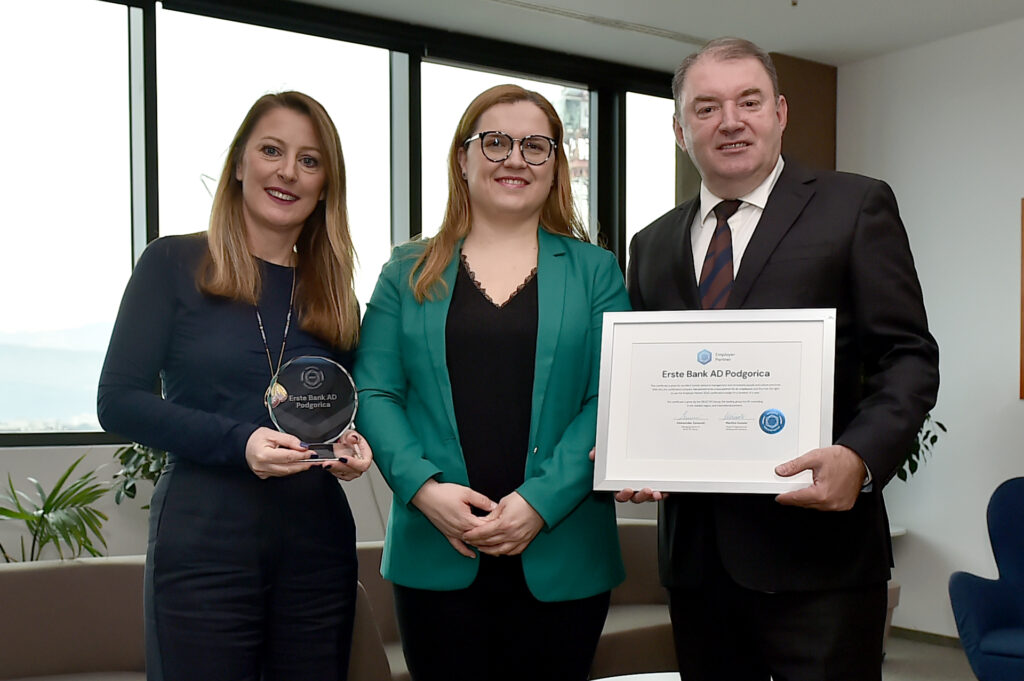 In order to meet all the conditions for obtaining the Employer Partner certificate, Erste Bank Montenegro had to undergo a detailed evaluation of human resources management, which evaluates the experience of employees in seven key stages and 30 topics.
This kind of evaluation of the human resources management system is the only one that simultaneously takes into account two perspectives – the perspective of the employer and the perspective of the employees.
Caring for the financial health of clients and employees
Even after increasing the requirements for awarding certificates, we are still able to join the ranks of the best employers in the region and we are very proud of this. We strive to provide a motivating and fair working environment in which every employee will have the opportunity to develop and improve their knowledge and skills. As a financial organization, we take care of the financial health of our clients and employees. We do this through various initiatives, among which I would single out non-linear adjustment of wages in order to reduce the effects of inflation on the standard of employees, said Tatjana Keković.
The Employer Partner team provided valuable advice and outlined the main points of attention for Erste Bank Montenegro in 2023 so they could keep making further improvements in the working environment.