Based on a comprehensive program and additional improvements in human resource management standards and practices, Hrvatski Telekom received again the Employer Partner certificate. The certificate is allocated by the independent consulting organization SELECTIO Group.
This year for HT, from an HR perspective, was marked by numerous programs and initiatives that contribute to the development of our business and the great satisfaction of our employees. One of these is the establishment of a career path for the non-frontline part of the organization. The result of having a clearly and transparently structured career path enabled the advancement of more than 1,000 employees in all parts of the company. We are proud that Hrvatski Telekom has maintained a very high position according to the criteria of the Employer Partner certificate, especially since the standards that measure the success of the HR function have been tougher this year.
It is important to us that through the certification process we achieved the highest number of points precisely in those aspects that our employees perceive as the greatest advantages of working in our company: the possibility of advancement, transfer of knowledge within the company, flexible work arrangements, a large number of benefits, a culture that supports innovation and opportunities to join various development programs, including retraining that results in a complete career change within the company. This motivates us to continue designing such programs and initiatives – said Anamarija Minarski, Director of Talent Acquisition, Performance & Development Department at Hrvatski Telekom.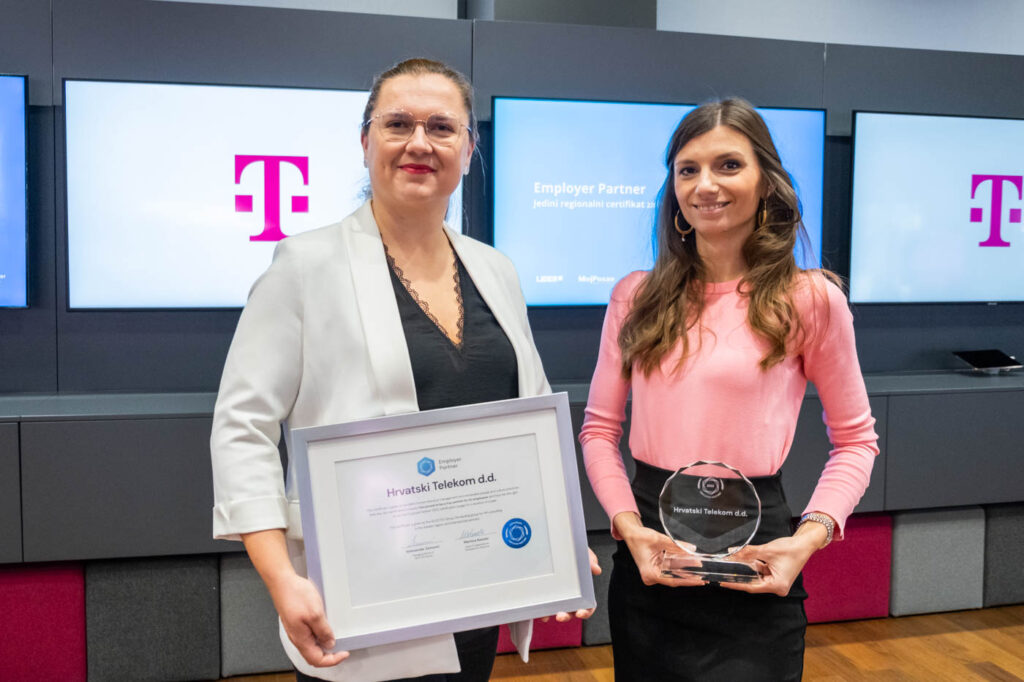 Hrvatski Telekom has particularly distinguished itself in the field of transformation, development and growth, and we especially praise the defined competencies of the future necessary for the realization of a long-term strategy. HT also stands out for its culture that supports innovation and the introduction of retraining and improvement programs to which all employees can apply, which, given today's business requirements, is an extremely important part of any organization's operations– said Lara Šubić Šuša, Project Manager of the Employer Partner certificate.
The Employer Partner certification team evaluated HR processes and how they affect the employee experience through seven key stages: attraction and recruitment, onboarding and employee development, employee engagement and satisfaction, transformation and development, retention and rewarding, and employee departure and return. This method of evaluation equally values ​​both perspectives – the perspective of the employer and the perspective of the employee, and the high level of points achieved proves that HR processes ensure the achievement of top business results through engaged and satisfied people.
The methodology of the Employer Partner certificate was designed in 2005 and has been continuously revised since then.