The Employer Partner team just finished the certification process in Addiko Bank AD Podgorica which included an in-depth analysis of the HR system. Addiko achieved top outcomes in all areas evaluated and particularly excelled with initiatives and projects that foster the growth and development of employees.
It fills me with pride to see that our image as a desirable employer is improving year after year and that we have created a workplace where employees are engaged and motivated. Our exceptional business result confirms that we have gathered and developed together a great team of people who really do a great job! That's why, as an exemplary employer, we do everything to make our employees feel satisfied and fulfilled at their workplace because every single contribution is important and is part of our success story – said the Chairman of the Board of Directors, Christoph Schön, addressing the audience during the recognition ceremony.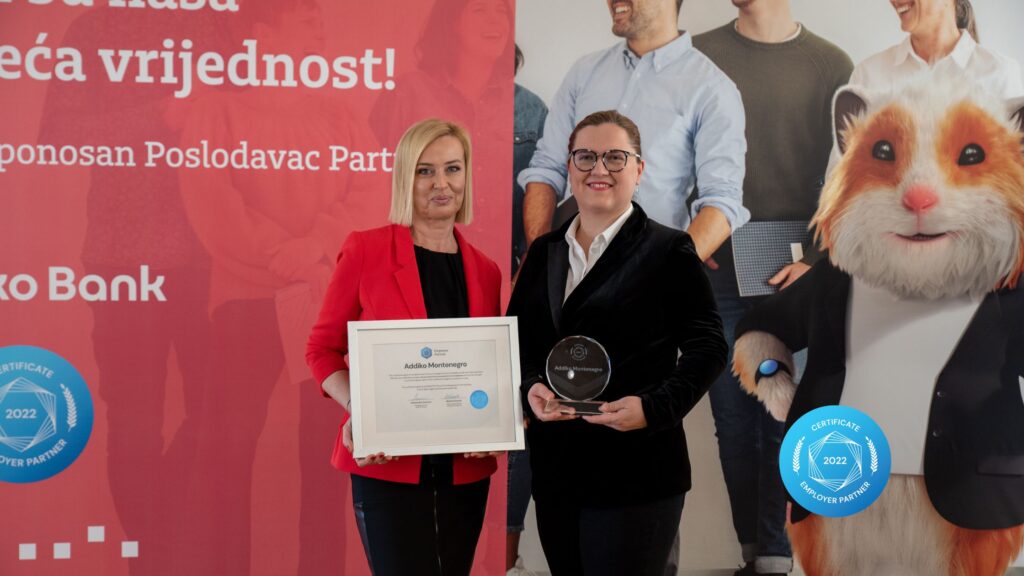 The Employer Partner evaluation showed that Addiko Podgorica is an organization that encourages open, honest and direct communication. They encourage the employees to express their suggestions and ideas through various activities. The organization has launched various initiatives to encourage and nurture innovation as one of its key values. They make sure to continuously invest in knowledge, offering advancement opportunities, different reward schemes, and an extensive set of other benefits while creating a balance between personal and work life.
I am really proud of the organization I work in and the people I work with. I am especially proud of the fact that people from the outside perceive us significantly differently, and that we stand out as an atypical bank that nurtures a culture of togetherness, a stimulating environment for development and personal initiative. The Employer Partner certificate is proof that we apply very high HR standards in our bank, but also a reflection of our commitment to developing employees' competencies, engaging their potential in the best possible way and, above all, inspiring them to leave their personal mark – said Jelena Đuranović, Director of the Department for human resources and corporate communications.