More than 11 years of continuous and persistent effort from the HR team in Mercator Serbia led to amazing results in HR assessment that placed them among the prestigious group of excellent employers who holds the Employer Partner certificate.
Rewarding employee suggestions
The human resource team played a key role in change management during the integration period in Mercator Serbia. For the purpose of digital transformation, various initiatives were implemented on the organizational level and all employees had the opportunity to give suggestions and feedback regarding change management. To make it better, HR designed specific programs for collecting employee suggestions for business improvement with defined criteria for collecting and evaluating suggestions and rewarding employees. Along with that, they defined competencies of the future necessary for the realisation of the long-term strategy and adaptation to external factors like digital transformation.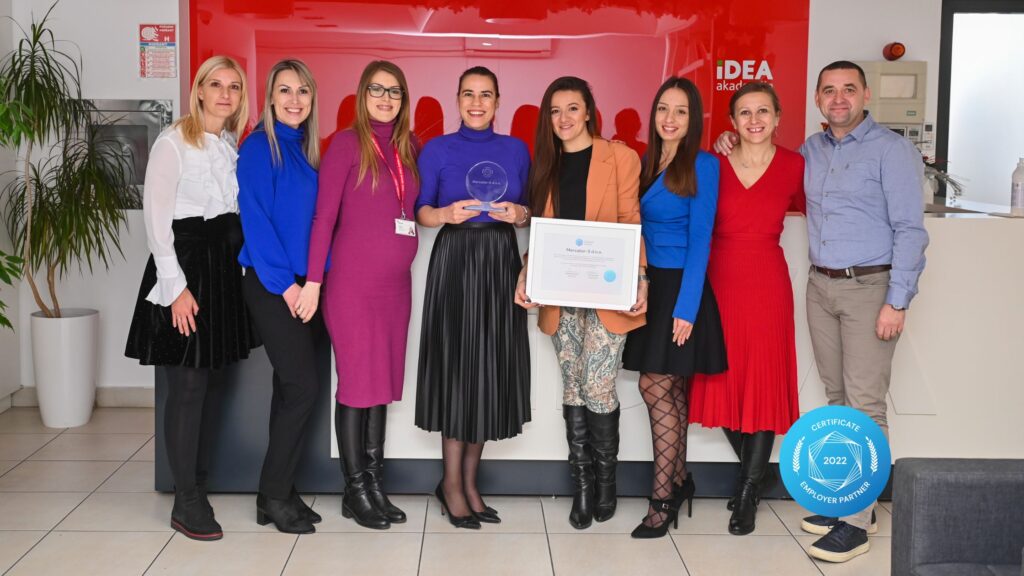 High employee satisfaction
Mercator Serbia systematically works on strengthening cooperation between departments. With job shadowing and including headquarters in everyday work during a high season Mercator creates open communication at all levels of the organisation. Also, promotion systems with defined criteria are transparently communicated to employees and different forms of recognition programs are used at all levels.
The vast majority of employees are satisfied with flexible work arrangements, all employees are covered by healthcare initiatives and all candidates are informed of their job application, potential delays and outcome. Feedback is collected from all candidates that participated in the selection process through a survey adapted to the selection phase.

Proven quality of overall human resource management

The Employer Partner certificate was implemented in more than 200 organizations from over 10 countries, and it is interesting that some organizations included the certificate as a key indicator of the success of the HR department, making it much more than recognition.
Unlike recognitions that praise individual HR practices, the Employer Partner certificate guarantees the quality of overall human resource management by observing HR practices through the so-called employee lifecycle which explores two perspectives – the employee's perspective and the employer's perspective. In this way, the independent certification team monitors the employee experience through seven key stages: attracting and hiring, onboarding and employee development, employee engagement
Check out the latest Employer Partner Talk with Jelena Sribar, Human Resource Director of Mercator Serbia and find out what it was like for her to go through the certification process and what the certification means to her team.