OTP Bank Serbia is the winner of the Employer Partner certificate, a prestigious HR award that guarantees the excellence of the HR process within the company and confirms continuous investment, modernization and improving the experience of employees. A complex and detailed analysis carried out by an independent Employer Partner team determined that OTP Bank stood out the most in the area of ​​engagement and inspiration of employees, transformation and growth as well as the strategic role of human resources management. These results clearly indicate that the bank has a strategic approach to employees and recognizes their role as crucial in the bank's development.
Krstinja Šćepanović, director of the human resources direction at OTP Bank Serbia, pointed out that this certificate confirms the commitment aimed at continuous dialogue with employees, setting innovation trends and decisive change management.
The times we live in require a different approach towards employees, clients, candidates, and banks as employers are going through a particularly challenging period. OTP Bank as an organization builds HR processes, innovative practices and relationships with employees according to the highest standards. We love banking, but we are not just bankers. Our leadership position is based on a corporate culture that enables employees to develop while constantly creating changes and innovative solutions. The competencies we nurture and the projects we initiate carry a clear message of where we are going, which is to be the bank and employer of the future. The fact that these efforts have been recognized with such a prestigious award makes us particularly proud but also motivates us to continue in the same direction, said Šćepanović.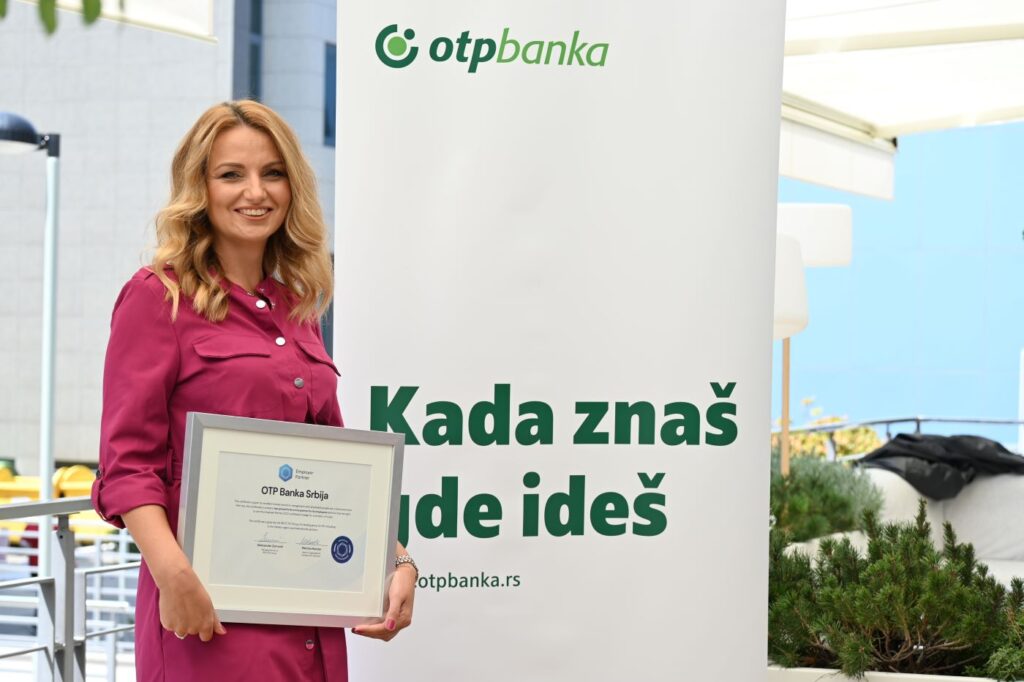 By achieving the Employer Partner standard, companies show that they are in a constant search for knowledge and development. The certification process enables simple data entry and a high-quality HR benchmark and gives the certification team additional space to examine the actual situation in organizations.
When we talk about key topics for human resource management, work performance, leadership and HR capacity are categories that are particularly challenging. OTP Bank has distinguished itself precisely in them, thus clearly showing that it strives for constant improvement of its processes, modernization and the use of modern tools in the business. Our extensive analysis confirmed this, since it is not possible to meet the criteria for achieving certification if there is no good connection of all processes in the organization, said Sanja Jevđenijević, on behalf of the Employer Partner certification team.
The recognition that confirms that employees are the pillar of success is the recent declaration of OTP Bank as the best bank in Serbia by the world-renowned Euromoney magazine. It is the traditional Euromoney Awards for Excellence 2022 which is awarded to financial institutions that provide clients with the highest level of service, innovation and expertise.